Personal Care
At Able Care we can source and supply a variety of items which may help you overcome difficulties with bathing and toileting. From grab rails, to assist with your balance and safety, to a bath lift which can help you continue enjoying your bath in comfort.
Do you want to look after yourself?
Do you want to drop in and pick up what you need from a wide choice?
Do you want to set up a regular order and have it posted/delivered discretely?
Toileting: raised toilet seats; frames; grab rails; commodes; urinals.
Continence: Discrete pads and pants; bed and seat protectors; reusable and disposable. We have a regular order scheme giving you assurance and peace of mind.
Dressing aids: button hooks; sock aids; long-handled combs & brushes; clothing protectors.
Bathing: long-handled sponges; washing foam; wipes; seats; lifts; bath/shower boards; bath lifts; shower stools.
Pop in to our showrooms in Inverness or Aberdeen to see our large selection of personal care items to help with daily living or call us for a brochure. Our experienced team can help you find what you need. We can advise you on the most suitable products to let you get on with your life.
You may be eligible for zero rated VAT on certain products and equipment. For more information please speak to our showroom team.
Contact Us...
Able Care Inverness
T: 01463 233 900
Able Care Aberdeen
T: 01224 636 868
Making life a little easier...
We would like to thank Able Care and all involved in the good, efficient and pleasant service we received in the fitting of N's stairlift.
News Headlines
Christmas/New Year Opening Hours Over the festive period our On-Call Engineer (Inverness based) will be available for Emergency Call Full Story...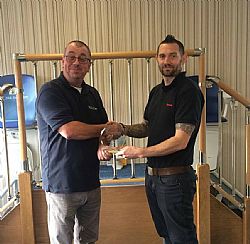 Able Care, a specialist mobility business based in Inverness and Aberdeen, covering the Highlands and the North East of Scotland, has been awarded Full Story...