Our Clients
Since 1996 Able Care has served individuals and organisations. As well as providing equipment and services to private individuals we also provide a service on behalf of an organisation that funds the work. From an easy to use tin opener to a bespoke bathroom adaptation we can give you the help you need to make life a little easier.
Our clients include:
Aberdeen Care and Repair
Aberdeenshire Care and Repair
Albyn Housing Society
Blackwood Homes
Cairn Housing Association
Castlehill Housing Association
Hanover Homes
The Highland Council
Grampian Housing Association
Inverness Care and Repair
Langstane Housing Association
The Moray Council
NHS
Pentland Housing Association
Ross-shire Care and Repair
Skye and Lochalsh Care and Repair
Sutherland Care and Repair
Tenants First
Contact Us...
Able Care Inverness
T: 01463 233 900
Able Care Aberdeen
T: 01224 636 868
Making life a little easier...
Thank you very much for the prompt assistance when we enquired about the feasibility of installing a stairlift and for a most thorough assessment onsite and informative quotation. It has been a great help to us in planning for future needs. We will have no hesitation in returning to you if and when the need arises.
News Headlines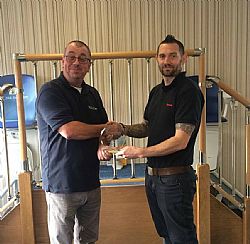 Able Care, a specialist mobility business based in Inverness and Aberdeen, covering the Highlands and the North East of Scotland, has been awarded Full Story...
New Facebook Page for Able Care's Aberdeen showroom

The Aberdeen branch of Able Care is spreading it's wings and now has it's own Facebook Page. Why not "like" the page a Full Story...