At Able Care we understand how important it is to be comfortable and safe
Mobility Furniture
Able Care has the largest selection of specialist mobility furniture in the North and North East of Scotland.
Want a comfortable seat?
Want to get up easily?
Need a bed that can relieve pressure?
Need a height adjustable bed to help manual handling?
Need an over bed/chair table to save stretching?
Need a footstool to put your feet up?
Need a cushion to prop you up?
At Able Care we have years of experience in providing our customers with high quality, customised and comfortable seating.
The benefits that good seating posture, comfort and safety can bring to your quality of life should not be underestimated and you can be assured that our chairs offer all of these attributes in a comprehensive choice of fabrics, leather and wood finishes. Our experienced team can help you find what you need to sleep well and sit comfortably. They can advise you on the most suitable products for your comfort and safety.
We have standard chairs for purchase on display, or we have a customised, made-to-measure range to suit more individual needs.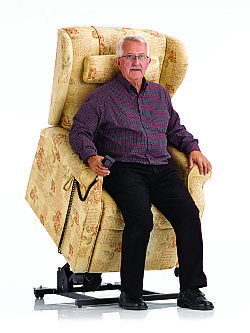 Pop in to our showrooms in Inverness or Aberdeen to see our selection of
lift and tilt/rise and recline chairs; fireside chairs; rehabilitation chairs; profiling divans and care beds (Inverness only); basic and pressure relieving cushions; over-bed and over-chair tables and trolleys; and footstools.
You may be eligible for zero rated VAT on certain products and equipment. For more information please speak to our showroom team.
Contact Us...
Able Care Inverness
T: 01463 233 900
Able Care Aberdeen
T: 01224 636 868
Making life a little easier...
We are most grateful for the efficient and professional way the installation has been dealt with and have no hesitation in recommending the services of Able Care.
News Headlines
Exciting News From Wednesday 1st July our showrooms will be reopening. Our new temporary opening times are Monday to Friday 10am to 3pm. We Full Story...
In view of the recent Government restrictions we have now closed our showroom until further notice. We are unable to deal with enquiries other Full Story...