Mobility Scooters
Able Care is your local stockist of Pride and Invacare mobility scooters.
Invacare Scooters
Invacare is a leading UK disability manufacturer that has helped people with reduced function, mobility and disability live as full a life as possible since 1885. Today, Invacare has a comprehensive product range of mobility, home-care, long-term care and acute equipment.
Mobility scooters from Invacare are a stylish range with exceptional manoeuvrability, reliability and safety. The scooters cover a wide range of mobility needs with many safety features as standard. Designed for everyday use this stylish range features micro, mini, medium, large and bariatric models. Two of the models are featured here but please come and visit us in our Aberdeen and Inverness showrooms or call to arrange a home visit to discuss your individual requirements.
Leo
Safe, solid, secure: The Invacare Leo is a scooter designed for all those that value their independence and wish to get out and about unaided. Safety is a key feature of the Leo, but this does not detract from its stylish and sporty looks. Leo offers users the freedom and confidence to enjoy their essential daily outings and leisure excursions. With exactingly high standards of design and safety engineering, the Leo undoubtedly sets a new market standard.
Key features:
4Mph Mid Range Scooter
Full Suspension
20 Mile Range
Automatic Brake Light
Red ,Silver or Blue
Comet Pro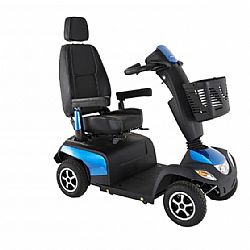 Power and performance in a premium package.
Whether you're popping to the local shops, taking longer trips into town, or looking to go further afield, the all new Comet Pro will take you the distance in comfort, safety and style.
With it's exceptional driving features and modern aesthetics, the Comet Pro offers
power and performance in a premium mobility scooter package.
Key features:
8/4 Mph High Range Scooter
Full Suspension
34 mile range
Automatic brake light
Safety feature, automatic speed reduction on cornering
Lcd Dashboard
11 colours
Pride Scooters
Pride is a world leader in the design, development and manufacture of mobility products - power chairs, scooters and lift chairs - for people with disabilities and mobility impairments. One of their models is featured here but please come and visit us in our Aberdeen and Inverness showrooms to discuss your individual requirements.
Apex Rapid
Sleek style and luxurious features.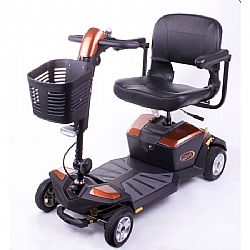 Introducing the first travel mobility scooter from 'Pride® Travel Scooter' range to feature ground breaking all-round suspension, the Apex Rapid with CTS Suspension (Comfort-Trac Suspension) delivers luxury and convenient features like a wraparound delta tiller with a high level charging port, LED kerb light and a storage basket together with a compact, easy to transport design. Sleek styling complements the Apex Rapid's abundant features making it an exceptional travel mobility choice.

Key features:
4Mph Boot Scooter
Breaks down to 5 pieces
Front and Rear suspension
Puncture Proof Tyres
You may be eligible for zero rated VAT on certain products and equipment. For more information please speak to our showroom team.
Contact Us...
Able Care Inverness
T: 01463 233 900
Able Care Aberdeen
T: 01224 636 868
Making life a little easier...
You have made an old man extremely happy, revamping my bathroom to a modern, easy to use, walk-in faciltiy in a very professional manner, you are a credit to your trade.
News Headlines
Christmas/New Year Opening Hours Over the festive period our On-Call Engineer (Inverness based) will be available for Emergency Call Full Story...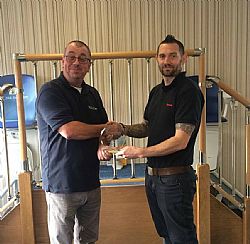 Able Care, a specialist mobility business based in Inverness and Aberdeen, covering the Highlands and the North East of Scotland, has been awarded Full Story...