bathing, showering; easy, worry-free; space, clean, accessible; lower, wider, safe; non-slip, adjustable; cooking, baking; bespoke, contemporary, design; sinks, ovens, units;waterproof; seats, grab rails; adapting your home to suit your needs
Bathrooms & Kitchens Adaptions
Able Care specialises in designing and adapting bathrooms and kitchens that fit you.
Want to make life easier?
Want the freedom to live your life?
Struggling with some of your every day jobs?
Want to do it yourself?
Need a design that fits you?
At Able Care adapting your home to suit your needs is what we do best. We will come to your home and carry out a free, no obligation survey, offer advice and talk through your ideas before giving you a quote for the work.
Our own tradesmen, all PVG (Protecting Vulnerable Groups) checked, will install your bathroom/kitchen with the minimum disruption to you and your home, leaving you with your own bespoke bathroom or kitchen.
"Washing is so much easier now that I don't have to worry about climbing in and out of the bath."
You may be eligible for zero rated VAT on certain products and equipment. For more information please speak to our showroom team.
Contact Us...
Able Care Inverness
T: 01463 233 900
Able Care Aberdeen
T: 01224 636 868
Making life a little easier...
Just a note to say how pleased my husband and I are with the stair lift you installed today. The men were pleasant, quick and efficient and left no mess whatsoever. It has been a joy to deal with your company.
News Headlines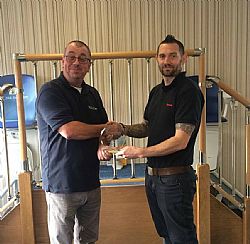 Able Care, a specialist mobility business based in Inverness and Aberdeen, covering the Highlands and the North East of Scotland, has been awarded Full Story...
New Facebook Page for Able Care's Aberdeen showroom

The Aberdeen branch of Able Care is spreading it's wings and now has it's own Facebook Page. Why not "like" the page a Full Story...