Highland business rising to new heights
Posted on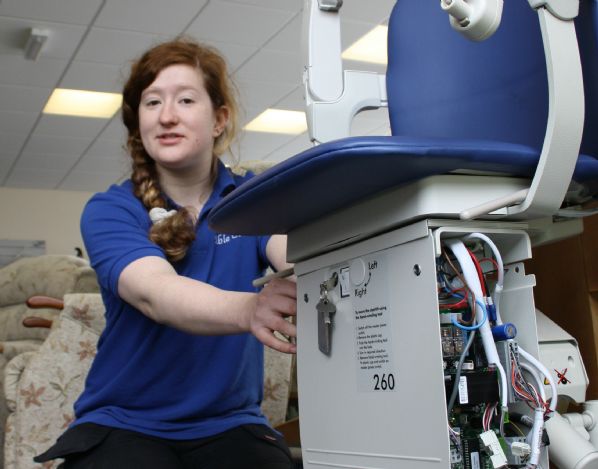 A Highland employer has achieved a first by employing and training the first female Stannah trained stairlift engineer in Scotland.
Rachel Benson from Invergordon is employed by Able Care Limited, a specialist mobility business based in Seafield Road Inverness, covering the Highlands and the North East of Scotland.
Rachel has a HND in Mechanical Engineering, but after gaining her qualification found herself under-employed stacking shelves in a local supermarket. Last year, Able Care, with the support of an Employability Grant from The Highland Council, expanded its stairlift team, and Rachel has been putting her qualification to good use as a trainee stairlift engineer.
Steve Elliot, manager at Able Care said he was pleased Able Care had been able to employ a local young person. "Rachel is proving to be a valuable member of our stairlift team, as well as learning about all our stairlift ranges she is proving a hit with the customers," he said.
"This year Able Care will have been serving the Highlands for 20 years and we are proud of our reputation as a quality local business offering Highland customer care," he added.
Stannah Managing Director, Patrick Stannah, said "As a UK manufacturer that has been around for almost 150 years we are huge advocates of providing young people with the opportunity to train and find employment in engineering roles. That Able Care has recruited the first woman in Scotland aiming to become a fully trained Stannah stairlift engineer is fantastic news and we wish Rachel every success in her new role."
Councillor Audrey Sinclair, Chair of The Highland Council's Development & Infrastructure Committee said: "The Council's Employment Grant Scheme aimed to support our out of work or underemployed people to move in to sustainable employment. I am delighted to hear of Rachel's progress and new qualification. I'd like to wish her and all the other young people who took part in the scheme all the very best for their future."
The Council has recently launched a new grant scheme information of which can be obtained at www.Highland.gov.uk/employgrants.
Able Care specialises in stairlifts – installation, maintenance and repair, home adaptations, bespoke mobility furniture as well as offering a large range of daily living aids making life a little easier for Highland residents.
Able Care is Scotland's only authorised Stannah Stairlifts dealership. Earlier this year Stannah Stairlifts, a well known, long established British company topped the polls in a Which? survey of the best stairlifts on the UK market.
In the report, Which? said of Stannah, "Stannah is probably the most recognised brand in the stairlift market and, according to our satisfaction survey, is also the best...outscoring its competitors across almost every category." 98% of customers surveyed said their Stannah stairlift met or exceeded their expectations.

Making life a little easier...
You have made an old man extremely happy, revamping my bathroom to a modern, easy to use, walk-in faciltiy in a very professional manner, you are a credit to your trade.